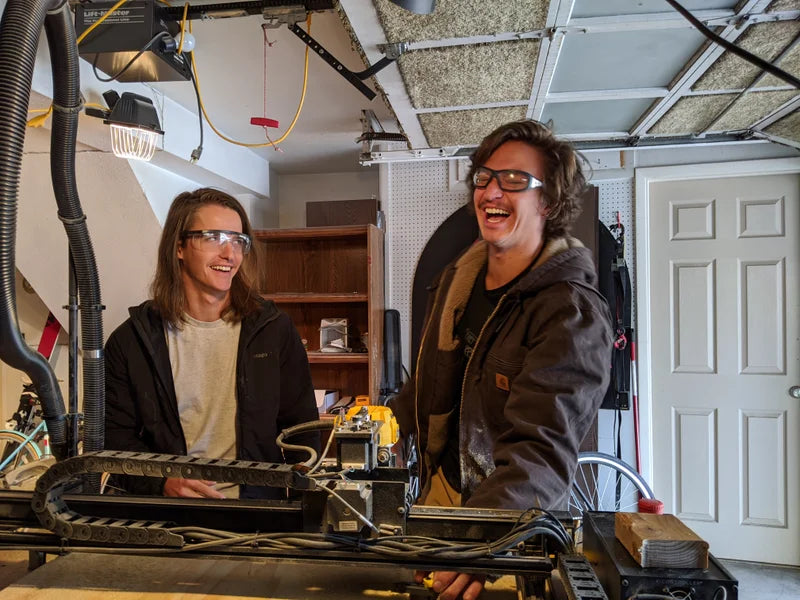 A note from the founders
We're Ryan and Jonathan. Nice to meet you!
Two ski patrollers from Summit County, Colorado started this project during quarantine in May 2020! This company and game are a perfect reflection of our personalities: fun-loving goofballs with an obsessive attention to detail and quality. We are proud as hell of these game sets, which were originally made LITERALLY from scratch (design to manufacturing to shipping) all by hand, by us two in our garage! Now, our NEW game sets (designed and assembled in-house) are manufactured right here in the United States of America! Check 'em out!Beer Darts is truly a unique and exciting game and it is our mission to SAFELY spread the fun far and wide- help us share it with friends and family!
Much love,
Ryan & Jonathan
⇓ More of our store below ⇓
What is Beer Darts?
Beer Darts is a casually competitive drinking game. Players sit or stand roughly 10 feet apart and place one of our Beer Darts games sets on the ground with an open can in the cup holder.

Taking turns, the players throw darts at their opponent's drink.
1. A "dink" (metal on metal with no holes) requires the opponent to take just one drink
2. "Punctures" require that a player drinks until their can no longer leaks.
3. Finally getting a dart in the hole on top, the "mouth-hole", is a game-winning throw. The first player to an empty can LOSES!
Beer Darts: Two Nutters, A Dream, and A Dart
Once upon a summer in Summit County, Colorado, two friends felt an itch for something new—something that would combine their love for good times and outdoor fun. Meet Ryan and Jonathan, the dynamic duo who would later become the proud creators of Beer Darts, a drinking game that has now found its way into countless backyards, tailgates, and even a few high-stakes tournaments.
The Early Days
It all started around 2015, when Jonathan was still deeply embedded in his professional ski and bike patrolling work. Though those endeavors had their own share of excitement, something was missing. Alongside Ryan, an equally enthusiastic partner-in-fun, Jonathan began toying with the idea of a game that would bring together their friends in a new and engaging way.
The Aha! Moment
Starting the project was a as spontaneous as the best games of Beer Darts tend to be. Ryan and Jonathan were a borrowed truck on their way to Denver to pick up some furniture for their sparsely furnished mountain chalet. The two had been in throws of lockdown for some weeks and Ryan queried, "do you think with our design experience we could make a beer darts gadget?"
"Ryan, we could make a Beer Darts gadget to end all Beer Darts Gadgets." Jonathan replied. And so they did.
The Garage Chronicles
With a vision in mind, the duo took to Jonathan's garage. There were sketches, prototypes, and yes, even a few misfires (don't ask about the Great Dart Debacle of 2016). They started with wood, but found it unwieldy and inconsistent. Soon they pivoted to CAD designs, spending countless hours fine-tuning the perfect beer-holding stand. They even delved into 3D printing for the prototypes, ensuring each piece was up to their standards.
Going Public
Bravely venturing forth from the garage, Jonathan and Ryan set up their first stall at a Breckenridge Farmer's Market. To their delight, people were hooked from the first toss. They sold their first ever set there, and the customer even went on to become their first-ever online buyer, a sure sign they had something special on their hands.
Building a Brand
Recognizing they were on to something, Jonathan and Ryan went about formalizing their invention. In 2020, Beer Darts officially became a company. A brand was born, logos were designed, and production ramped up. While Ryan took care of the digital design specifics, Jonathan, pulling inspiration from his day job, made sure that safety guidelines were included in every set. After all, darts and drinks should be fun, not dangerous. (even if the risk makes it a tad more fun)
The Kickstart
Convinced that they needed to take Beer Darts to the next level, the duo initiated a crowdfunding campaign. The community response was overwhelming. Their Kickstarter not only reached its goal but exceeded it, signaling strong market validation for their creation.
Where We Are Now
Today, Beer Darts sets are available online, with fun colors multiple design options. Jonathan and Ryan are continually working on ways to improve the game, such as new accessories and limited-edition designs. They've even begun talks with major retailers like Sheels to take Beer Darts to an even wider audience.
The Essence
In the end, what makes Beer Darts so special isn't just the clever design or the appeal of the game itself—it's the story of two regular guys who dared to dream, to tinker, and to bring their vision to life. They wanted to create something that would bring people together, and by that measure alone, they've hit a bullseye.
So next time you're popping open a can for a game of Beer Darts, know that you're not just playing a game—you're part of an American dream, one carefully-aimed dart at a time.
Cheers and may your darts always hit their mark! 🍻🎯